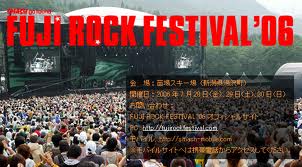 My Best Gig Ever!
Fuji Rock Festival – Japan
28 July 2006 – Madness
I'd just returned from a tour of The West Coast of America and didn't even leave Heathrow before boarding the plane to Osaka. We arrived early morning and went straight to the hotel to rest before gigging that evening and then the following day on to Tokyo for a late afternoon/early evening gig in a theatre. I was ready for my day off when it came in Tokyo. It is an amazing place to explore and I took the opportunity to sample some proper Sushi before boarding the Bullet Train to Honshu Island, Mount Fuji (which I could write a whole blog about – fantastic experience!).
I must mention Toilets – One of the best things in Japan was its toilets, amazing – you will know what I mean if you have been and if not, you must go… more high tech than you would believe!
I left the hotel with the band for the Fuji Rock Festival site in a coach and we drove all the way up the mountain to the site, with the most stunning views over the surrounding countryside. I couldn't believe how lush and green the fields around us were.
We line checked and ate (and had a beer or two) and got ready for showtime. The crowd was huge,  70,000 people and they were so ready for some Madness. Usual 'One Step Beyond' to start and we even played 'In The City' as this was used on a Japanese TV advert so they all knew it (better than we did probably).  Rico Rodrigues (the Specials trombonist) joined us onstage for 'Ironshirt' and 'Nightboat to Cairo' and Franz Ferdinand and The Zutons danced for the whole gig on the side of the stage! I went on to play with Franz Ferdinand at the Forum in London later that year. The gig went very well as most Madness gigs do but I nearly came a cropper during 'Shut Up'; I span round and round whilst playing (as you do) and normally can hold off the dizziness, but not this time.   I luckily ran backwards into the bass amp and not forwards off the front of the stage – it gave the crew a good laugh and me a few bruises and another happy memory.
After the gig we joined all the other acts for a drink or two and made a few friends. The journey down the mountain was hysterical with all of us singing and making silly masks and hats out of the sick bags in the coach… how old are we?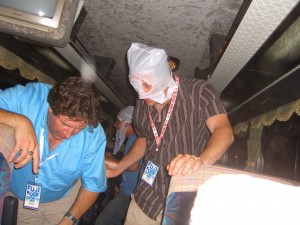 Life is about the moments you share and the connections you make and that night I connected with 70,000 people and made a memory that will last me a lifetime, may even have the video evidence somewhere!!!