Teaching and Mentoring all Ages and Abilities from Complete Beginners to Experienced Players.

Take some Zoom lessons with me if we can't meet face to face.
You can learn to play by ear or take theory and grade exams, develop your reading and progress into improvisation all at your own pace. I  specialise in inspiring and working to your goals either as a hobby or to take further if you want.  With a fully equipped  studio available you can also monitor your progress and learn recording techniques. I also offer tuition on various music programs including Cubase, Sibelius and many music based apps.  I'm qualified and fully CRB checked.
All my exam students have achieved a 100% pass rate of which over 50% have achieved a merit or distinction. I teach mainly the ABRSM Jazz exams as I feel these exams teach the student many useful and useable skills which some of the other exams certainly do not!
I am a professional gigging sax player and i think it's important to have lessons from someone who can not only teach, but play on stage too!
If you are interested in Saxophone lessons with me at my purpose built soundproof studio in Ferring or online via Zoom simply email or call me.
Student Reviews
Phenomenal Amount Of Experience – Mike M 
I have been attending lessons with Steve for about a year after previously studying a 'classic' portfolio which, whilst beneficial, wasn't taking me in the direction I wanted to go. It's probably fair to say that if I hadn't met Steve I would have given up the sax. Steve is very knowledgeable both in practice and theory and brings a phenomenal amount of experience to each lesson. He is very generous with his time, incredibly patient and encouraging – my family say they have noticed a vast improvement in my playing / confidence since working with him. He has a great sense of humour which I find very appealing. Lessons take place in custom built, soundproofed studio. There are facilities for recording which is so helpful  if you want to measure your progress. In my opinion he is more than a tutor; he's a musical friend.
Instantly At Ease – Nina 
I hadn't played my saxophone for (at least) 18 years when I, nervously, arrived for my first lesson with Steve Turner. He put me instantly at ease and had me laughing within minutes! His knowledge, enthusiasm and passion for music is impressive and his teaching style is so exciting and uplifting, that I came away absolutely buzzing. I enjoy my lessons immensely! He is endlessly patient and encouraging and my confidence is growing steadily under his instruction. Steve is not your average teacher, he is something truly special…he even makes learning scales enjoyable!
Best Sax Teacher About – frankiesax
As a beginner i wasted the first 8 months with other teachers before meeting Steve Turner. In the last 16 months with Steves encouragement and guidance (and a lot of hard work) I am now playing on stage with proper musicians. Likeable and modest about his achievements in the sax world, he has a wealth of experience to pass on. I would recommend new students to make use of his live performance experience as well as the technical side. Despite playing on the big stage with world famous artists like Madness, Steve was humble enough to give up a Saturday morning to take a bunch of his students busking in Brighton, just for the fun of it . Highly recommended.
Great! – XXEllieXX
"A fun and engaging tutor, every lesson you learn something new! made practicing fun! we can record during the lesson and that makes the lesson something to look forward to! very very good. x"
Mature Student – Castle
"Steve has a perceptive gift of drawing out the best in his students. Whilst insisting on the foundational necessities of scales and exercises. Steve has a passion for entering into the fun of playing a range of music and generally with a backing track. He encourages both the reading of music and improvisation."
Excellent Teacher – SteveDunk
"As with most of my generation, I grew up with Madness and have remained a fan to this day. It was therefore with some trepidation that I decided to book some lessons with Steve. They always say you should never meet your idols, let alone stand up in front of them and make embarrassing noises on a saxophone! However, Steve could not have been more welcoming and easy-going. I'd played Sax on and off for a few years and, being self-taught, had loads of bad habits and enormous gaps in my knowledge. Steve has patiently worked through these and the difference he has made to my playing – after only a few lessons – is amazing. As well as the technical aspects, I really needed someone to inspire and enthuse me – to make me want to practice. This he has done perfectly, and the Saxophone is becoming an ever bigger part of my life. Whenever you are learning a new instrument, you need a balance between the discipline of practicing the building blocks and the pure enjoyment of just playing for fun. Many teachers get this balance wrong and their students end up either bored or learning nothing. Steve is one of the very few who let you progress at your own pace, in whatever musical direction is most natural to you, so that learning is easy and practicing never becomes a chore. In addition to his teaching ability and approach, Steve's obvious love for the instrument, his depth of musical knowledge and breadth of experience across many genres, means I have no hesitation in thoroughly recommending him whatever your age, previous experience or musical taste."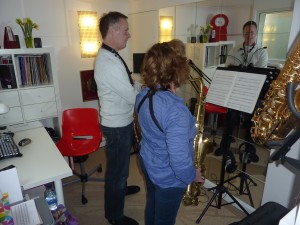 FUN! – winegums71
"The lessons are always fun and most importantly I come away having learnt something! When I feel like I'm not progressing Steve records me playing and i feel like a musical genius! A real motivator!"
Great Sax Teacher – SimonFox
"Steve is a great guy and a brilliant teacher. His approach is excellent and every lesson produces a new skill. Highly recommended." Simon
Dave – dave47
"I have been wanting to play the saxophone for some years now and decided to take the plunge, I purchased a sax on ebay and found an advert for lessons with Steve Turner I booked a couple of lessons with him and have not looked back. He is a friendly and patient tutor and listens to you and puts you under no pressure. Under Steve's tutorage I am keener than ever to progress and look forward to my lessons every week. I totally recommend Steve Turner for sax lessons."
Great saxophone tutor – Janie6
"my daughter is 9 years old and is taking lessons on her saxophone with Steve Turner. He is wonderful with her and has made her feel so at ease from the first lesson. Since starting lessons she is so enthusiastic about her music and practices because she wants too not because she has too. i truly believe this is because of his teaching style and makes it interesting and encourages her every week. He has a studio to teach in which is nice for students to get uninterrupted lessons. I would recommend Steve to anyone from beginner upwards as he clearly enjoys what he does."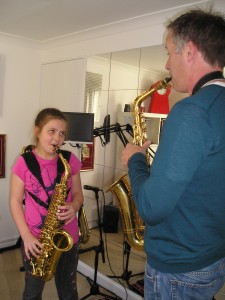 Sharon – Shazie
"Fantastic teacher. Very patient and encouraging . He gave me the confidence to realise a dream I had for a long time. Learning with Steve is an absolute pleasure. He has given me the confidence to keep going. I have recommended Steve to friends and I have no hesitation recommending him on this site. I wish I had started lessons years ago FANTASTIC."